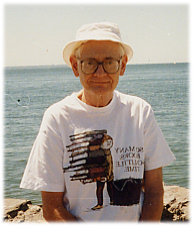 Journalist Hy Brett was born and grew up on New York's Lower East Side, where, he says, he learned firsthand all about survival. When the weather was too cold to sell shopping bags, or too hot to play stickball, he would visit

the Seward Park Public Library and read books that he hoped would explain the way the world works. He is still reading and trying to learn, and he shares some of his findings in this book.

He was a feature writer and librarian at the New York Post until he left to pursue a career as a freelance editor and author. His articles and humor have appeared in such diverse publications as The New England Journal of Medicine and True Confessions. His critically acclaimed mystery novel, Promises to Keep, was published by HarperCollins and was a Mystery Guild main selection. His The Ultimate New York City Trivia is packed with 1,300 fascinating and surprising facts about the world's most exciting city.



Having grown up in the days before diminished expectations, he has achieved his childhood dream of living in Brooklyn, the borough that gave the world the Dodgers, Walt Whitman, and Mae West.