Secret Agenda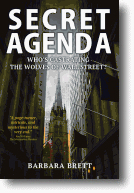 New Book!
SECRET AGENDA
Who's Castrating the Wolves of Wall Street?
by Barbara Brett
They are the most powerful men in America: billionaires born to privilege and linked by their membership in the nation's most elite fraternity. They have always snatched what they want. From the halls of their ivy-league college to the counting houses of Wall Street, nothing has ever stopped them from reaching their nefarious goals. But as they gear up for their biggest takeover of all—the presidency of the United States—they discover to their horror that someone else has a secret agenda too. One by one, they are being castrated by an unknown attacker....
SECRET AGENDA-a riveting mystery of political ambition set in the glittering heights of New York society and the darkest depths of Wall Street depravity!
Praise for Secret Agenda
Former Brooklyn police lieutenant Tom Berenson, a widower still grieving for his late wife, is fighting formidable adversaries: corrupt, powerful men, who get away with everything, including robbery, rape and murder, doing what they want, protected by their money, their lawyers, and their powerful positions. When these men meet someone sneakier and wilier than they are, you cheer that they are getting their comeuppance. It's up to Tom to find out who is after these Golden Guys, striking them at their very core. You will be rooting for him to unravel this mystery before he gets killed himself, rooting for him to stop these pernicious forces before their secret agenda can be put into place.
"Secret Agenda is a page-turner, intricate, and mysterious to the very end. Very powerful. A terrific read! (You hope for a sequel.)
- Kay Williams, The Matryoshka Murders
Agenda: Home | Read Prologue | Reading Group Guide | About the Author
[ Buy Paperback: Amazon | B&N ]
[ Buy Ebook: Amazon | B&N | iTunes | Smashwords | Kobo ]