A Secret Report To The True American Faith Society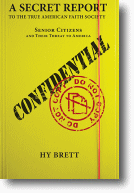 A SECRET REPORT TO THE TRUE AMERICAN FAITH SOCIETY
Senior Citizens and Their Threat to America


by Hy Brett



[ Buy Ebook: Amazon | B&N | Kobo | iTunes ]
[ Buy Paperback: Amazon | B&N ]
Social Security and Medicare were once lauded as prime examples of America's great compassion and our superiority to other nations. Now the programs are being condemned by the privileged and the greedy as costly entitlements that are leading the country to ruin. Hy Brett's SECRET REPORT is a spoof on how the public, including seniors, might be manipulated to approve of novel legislation that promises to resolve the so-called crisis. Whether a spoof or, maybe, a forecast of things to come, it's a rollicking send-up of powerbrokers and the media, think tanks and politicians!


Praise for A Secret Report To The True American Faith Society
"This is a must-read book for everyone, not only seniors, beautifully researched and eloquently written with tongue-in-cheek. It will make you laugh and it will make you angry! Best of all, it will make you vigilant."
- Kay Williams, author of The Matryoshka Murders

"[A SECRET REPORT] is all too telling. As an Irishman, I am very receptive to Swiftian satire. The book moves with umph. It can be seen as a longer, more political development of a story on suicide parlors by Kurt Vonnegut."
- Alan Astro, Professor of Modern Languages and Literature, Trinity University. Author of Understanding Samuel Beckett

"Satire is one of the most difficult forms of comedic writing and Hy Brett has mastered it completely. A SECRET REPORT takes a serious subject, the growing longevity of senior citizens and their increased cost to the taxpayer, and turns it on its head with a "solution" that's bold and witty and, because it is so well researched, thoroughly engaging. Using the device of a fictional think-tank report on the possibilities of the "Senior Growth and Opportunity Act," Brett considers all of the governmental and other mechanisms that might be utilized to convince seniors to do the right thing and reach a star-spangled ending. Amusing and at the same time heartfelt. I loved it and laughed out loud more times than I can count."
- Jean Arbeiter, author of Marilyn, The Prequel

"This is wit at its best! Like Jonathan Swift's satirical, A Modest Proposal that suggests a way for children not to be a burden to their poor parents, Hy Brett's A SECRET REPORT offers up a simple solution on what to do with the expanding aging population – they should "move on." His reasoning: Medicaid is overloaded, children and grandchildren are pressed for time and resources, and senior citizens are taking a toll on civilizations. To make the last phase on earth more palatable, Brett suggests various group programs for this populace. Using public relations titles for those approaching this course such as SUNSHINE SENDOFFS and GLORY FOR GERIATRICS he lists tempting reasons for his premise of speeding up the demise and looking forward to a new and better forever: Your spirit can be in multiple places at any given time. Prices never rise in heaven. You can return for important updates on the World Series and other sporting events, and there are no worries about gaining weight. The book includes songs for the departed, poems, and special guaranteed eulogies that could be included in package deals for those who choose to go on. Some readers will be outraged if at first they don't read the disclaimer AND if they have no sense of humor, but others who appreciate satire within the climate of political and not-so-political problems, will laugh and be amazed at Brett's audacity and sense of humor. A SECRET REPORT shouldn't be kept a secret for readers who appreciate clever, biting satire."
- Constance Walker, author of In Time

[ Read Introduction and Foreword | Read Excerpt ]
[ Buy Ebook: Amazon | B&N | Kobo | iTunes ]
[ Buy Paperback: Amazon | B&N ]