The Ultimate New York City Trivia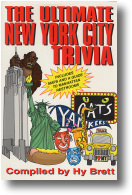 THE ULTIMATE NEW YORK CITY TRIVIA




Compiled by Hy Brett





Published by Rutledge Hill Press


Paperback, 224 pages, $6.95
ISBN 1-55853-499-7

[ Buy ]
Whether you live in the Big Apple or in one of the other towns in the nation or on the planet, The Ultimate New York City Trivia will both delight and enlighten you. Written in a question-and-answer format, its 1,300 fascinating facts cover sports and entertainment, history and geography, science and nature. Here are a few samples: What was the original use of Broadway, the world's most famous street? What are the names of the concrete lions that guard the forty million items in the New York Public Library on Fifth Avenue at Forty-second Street? How were New Yorkers finally convinced that the Brooklyn Bridge, formally opened on May 24, 1883, was safe for pedestrians?

The answers are: 1. An Indian warpath. 2. Patience and Fortitude. 3. Circus impresario P.T. Barnum led twenty-one of his elephants across it.

In addition to maps, photographs and brief articles about landmarks, the book includes a unique guide to Manhattan's most closely guarded secret--its free restrooms.


New York City Trivia Sampler
Q: What, appropriately, was the first play at the Bowery Theater in 1826?
A: The Road to Ruin.

Q: What and where is Alphabet City?
A: Avenues A through D on the Lower East Side of Manhattan.

Q: What Bronxite, once a sixth-grade teacher, formed a rock band popular in the late 1970s and again in the late 1990s?
A: Gene Simmons of Kiss

Q: Who, the son of a slave, was America's first international sports hero?
A: Boxer Bill Richmond of Staten Island, who was born August 5, 1763.

Q: Established in 1803, what is the oldest running newspaper in the country?
A: The New York Post.

Q: In how many consecutive games did Joe DiMaggio, the Yankee Clipper, get a hit in 1941?
A: Fifty-six.


Praise for The Ultimate New York City Trivia
Featured on New York City's Centennial Website!

Featured by the New York Daily News in its special Centennial Section 6/21/98.

"It's a fabulous book! A great book! Once you pick it up, you can't put it down."
Joe Franklin, "Down Memory Lane," WOR, New York

"Thank you for ...your 'Ultimate' accomplishment. You should feel proud that you are stumping many of the City Hall staff..."
Cristyne F. Lategano, Director of Communications, The City of New York

"A great, fun book, full of information! Better get it if you're planning a visit to New York!"
Larry Himmel, "Midday," KFMB, San Diego

"These tidbits focus on history, geography, entertainment, the arts, literature, sports, leisure...and places and people who represent every race, religion and nationality in the world.... Much of the historical trivia help to fill in the holes in our knowledge... You'll find a lot of information here...."
COME ALL YE, Review Journal for publications in the fields of Folklore, American Studies, Social History and Popular Culture

"What a great book!"
John Daily, "The John Daily Morning Show," WBNR, Beacon, NY

"Swell book! A must read for visitors to New York!"
David Lile, "Daybreak," KFRU, Columbia, MO

"An amazing book! There are a lot of books about New York, but this one is unique!"
Norman Liss, "The Way to Go!" Westchester Cable TV

"Filled with facts and fun!"
Jonathon Brandmeier, "Radio Showgram," WCKG, Chicago & KLSX, Los Angeles

"It's a fun book, full of surprises. Very entertaining!"
Bob Valvano, "The Bob Valvano Show," WHAS, Louisville, KY

"A wonderful, wonderful book!"
Don Weeks, "The Don Weeks Show," WGY, Albany, NY

[ Buy | Learn More About the Author Hy Brett ]