Promises To Keep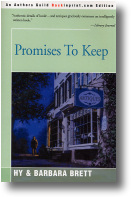 PROMISES TO KEEP




by Hy and Barbara Brett





Authors Guild Backinprint.com Edition


Paperback, 294 pages, $18.95
ISBN 0-595-08952-6
(Originally published by Harper & Row)

[ Buy ]
It's the 1980's and morning in America-or is it? When ex-homicide cop Gil Ferguson and his wife, Connie, leave New York City to open an antiques shop in a charming New England town, they find that murder, danger, and ugly secrets can lurk in even the quietest corners of America. They had hoped to pursue the idyllic life-but find themselves pursued by neo-Nazi killers instead...
Praise for Promises To Keep
"Hy and Barbara Brett have written a literate thriller with a great deal of color and charm..."
-The Pittsburgh Press

"The Bretts' literary style should hold readers fast..."
-Publishers Weekly

"Promises to Keep is a fast-paced book, fleshed out with a number of lovable, believable characters. Realistic descriptions of life in New England and [among] antiques dealers put the reader solidly in the picture...."
-The El Paso Times

"The Bretts' story centers on an engaging New Hampshire couple whose tranquil antiques business is abruptly overshadowed by murder, a neo-Nazi movement, and an assortment of [desperate] characters.... Authentic details of locale, small-town personages, and antiques graciously ornament an intelligently written book."
-Library Journal

"The debut of a highly likable new husband-and-wife amateur sleuth team.... [T]he antique stuff is charming, the humor is niftily low-key, the pacing is sure..."
-Kirkus Reviews

[ Buy | Read Chapter One | Learn More About Authors Hy and Barbara Brett ]