Love After Hours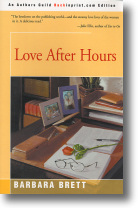 LOVE AFTER HOURS




by Barbara Brett





Authors Guild Backinprint.com Edition


Paperback, 343 pages, $19.95
ISBN 0-595-08944-5
(Originally published by Avon Books)

[ Buy ]
Five savvy New York women:
Gwen, the dreamer...
Terri, the sexpot...
Frances, the feminist...
Andrea, the Ice Queen...
Nadine, the genius...

Together, they edit the ultimate magazine about love. They're the experts. Or are they? What really happens to them when night closes in?
Praise for Love After Hours
"The lowdown on the publishing world-and the steamy love lives of the women in it. A delicious read!"
-Julie Ellis, author of Far to Go

[ Buy | Read Chapter One | Learn More About the Author Barbara Brett ]