Between Two Eternities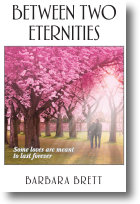 BETWEEN TWO ETERNITES


Some loves are meant to last forever...



by Barbara Brett



[ Buy Paperback: Amazon | B&N ]
[ Buy Ebook: Amazon | B&N | Smashwords | iTunes | Kobo ]

After ten years of marriage, two wonderful children, and the financial struggles of building successful, but separate, careers-he as an English professor, she as an illustrator of children's books-Robert and Marcie are still very much in love. But Robert's heart is breaking: he knows Marcie is about to die...

Intensely romantic and unforgettable, Between Two Eternities is the story of a man, a woman, and the breathless romance that comes to mean more than life itself-and suddenly demands the ultimate sacrifice.
Praise for Between Two Eternities
"The facts are cold; the story that unravels is warm and extremely moving... Brett handles it impeccably."
-Publishers Weekly

"This is one book that everyone should read to understand that time is short and we need to live and love life to the fullest because you just never know. Author Barbara Brett presents many issues that so many will debate after reading this heartbreaking and enlightening novel. Some portraits will change and others we know will last for eternity if just in our hearts and minds."
-Fran Lewis, JUST REVIEWS
[ Read Full Review ]

"From decisions on how to spend last days and how to renew the love between them to how to face a loved one's moving on, Between Two Eternities provides a gripping saga packed with discussions of life and death's meaning, how to face the inevitable with dignity and wisdom, and most of all - how to preserve lasting love in the face of end times.... Heartfelt, poignant, and - surprising - even uplifting at many unexpected points, Between Two Eternities will captivate any reader interested in life, death, and transition points in between."
-Diane Donovan, Senior eBook Reviewer
Midwest Review of Books
[ Read Full Review ]



[ Between Home | Read Chapter 1 | Reading Group Guide | About the Author ]

[ Buy Paperback: Amazon | B&N ]
[ Buy Ebook: Amazon | B&N | Smashwords | iTunes | Kobo ]