Secret Agenda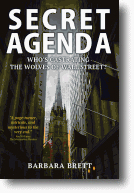 SECRET AGENDA
Who's Castrating the Wolves of Wall Street?
by Barbara Brett
They are the most powerful men in America: billionaires born to privilege and linked by their membership in the nation's most elite fraternity. They have always snatched what they want. From the halls of their ivy-league college to the counting houses of Wall Street, nothing has ever stopped them from reaching their nefarious goals. But as they gear up for their biggest takeover of all—the presidency of the United States—they discover to their horror that someone else has a secret agenda too. One by one, they are being castrated by an unknown attacker....
SECRET AGENDA-a riveting mystery of political ambition set in the glittering heights of New York society and the darkest depths of Wall Street depravity!
Praise for Secret Agenda
"Former Brooklyn police lieutenant Tom Berenson, a widower still grieving for his late wife, is fighting formidable adversaries: corrupt, powerful men, who get away with everything, including robbery, rape and murder, doing what they want, protected by their money, their lawyers, and their powerful positions. When these men meet someone sneakier and wilier than they are, you cheer that they are getting their comeuppance. It's up to Tom to find out who is after these Golden Guys, striking them at their very core. You will be rooting for him to unravel this mystery before he gets killed himself, rooting for him to stop these pernicious forces before their secret agenda can be put into place.
Secret Agenda is a page-turner, intricate, and mysterious to the very end. Very powerful. A terrific read! (You hope for a sequel.)"
- Kay Williams, The Matryoshka Murders
"Brett is a master at developing characters, tension, and personal and political scenarios designed to grip readers with a relentless attention to twists and turns and realistic scenarios....Fast-paced and beautifully written, Secret Agenda is a highly recommended pick for readers who like their political thrillers steamy, passionate, and thoroughly involving."
- D. Donovan, Senior Reviewer, MIDWEST BOOK REVIEW
[ Read Full Review ]
"[A] dark, can't-put-it-down read…. Brett captures readers' attention from the very beginning.… She writes with vivid clarity that will put you in each situation… SECRET AGENDA by Barbara Brett is a page-turning book for all who love intricate mysteries with a stunning ending."
- Carol Hoyer, READER VIEWS
"The very first sentence already tells the reader they will be in for something chilling, out of the ordinary: 'Moonless nights are made for mischief, especially the sexual romps of Golden Guys like Tony Portman.' I love it when authors are able to get my attention from the very beginning of the story, but sustaining it throughout the entire novel is something that takes skill, and Barbara Brett has that skill. Readers are introduced to a fraternity of powerful men, a group that has always found a way to attain their goals, no matter what these are, dominating both corporate and political circles. They are the movers of Wall Street. This time, their aim is to take over the presidency of the United States, and they are darn sure nothing can stand in their way. But they are in for their greatest surprise as someone with a more sinister agenda is ahead of them, castrating members of the group. Can they, with their power and resources, unveil the face of the enemy before this enemy destroys the whole group? SECRET AGENDA: Who's Castrating the Wolves of Wall Street? by Barbara Brett is a mesmerizing story of power, corruption, and crime.
The writing is mature, crisp, and it flows with a grace that is unusual. The scenes are focused, and whether describing a rape scene or a graphic image, the author allows readers to see the details clearly. Barbara Brett's writing is cinematic, flowing with powerful visual images and unending action. From the first page of the narrative, the reader is introduced to an intensity that involves strong emotions, driven and exciting dialogues, and a conflict that escalates at a rapid speed. SECRET AGENDA: Who's Castrating the Wolves of Wall Street? is a fantastic story, one crafted after the style of Robert Ludlum's The Icarus Agenda. It's hot and spellbinding, seasoned with suspense and grim humor."
- Romuald Dzemo, READERS' FAVORITE, 5 Stars
Agenda: Home | Read Prologue | Reading Group Guide | About the Author
[ Buy Paperback: Amazon | B&N ]
[ Buy Ebook: Amazon | B&N | iTunes | Smashwords | Kobo ]