Sizzle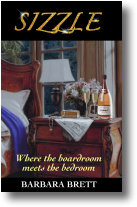 SIZZLE


Where the boardroom meets the bedroom



by Barbara Brett



[ Buy Paperback: Amazon | B&N ]
[ Buy Ebook: Amazon | B&N | iTunes | Smashwords | Kobo ]

She's the most beautiful, ruthless CEO in the nation. He's the most dangerous corporate raider in the world. Neither has ever lost a battle in the boardroom-or the bedroom. Now they're warring for America's biggest publishing prize.

SIZZLE-a novel of breathtaking power and ambition, set against the jet-setting world of Manhattan's elite!
Praise for Sizzle
"[A] battle fraught with...the dirtiest of tricks...the stuff that destroys marriages, people, lives.... Sizzle through the summer with Sizzle."
-The Salem News

[ Sizzle Home | Read Prologue | Reading Group Guide | About the Author ]

[ Buy Paperback: Amazon | B&N ]
[ Buy Ebook: Amazon | B&N | iTunes | Smashwords | Kobo ]