Wishful Weddings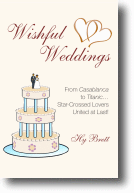 WISHFUL WEDDINGS




by Hy Brett



[ Buy: Amazon | B&N | Kobo | iTunes | SmashWords ]
[ Buy Paperback: Amazon | B&N ]
Throw away your handkerchiefs! The book that brings happily-ever-after to everyone's favorite star-crossed lovers is here. In WISHFUL WEDDINGS author Hy Brett corrects the heartless endings of Casablanca, Titanic and fifty more classics. At last we can follow couples like Rick and Ilsa, Jack and Rose, Romeo and Juliet down the aisle—and read their wedding announcements as they would appear on the society pages of their local newspapers, whether the New York Times, the Wuthering Heights Evening Breeze, the Metropolis Daily Planet or the Duchy of Frankenstein Herald.

In this rollicking ride on the road to romance, we also find Hamlet and Ophelia, Barbie and Ken, Tarzan and Jane tying the knot at long last. La Boheme's Mimi and La Traviata's Violetta have miraculous recoveries from their TB and rush down the aisle into the arms of Rodolfo and Alfredo. Scrooge is reunited with his childhood sweetheart. Sherlock Holmes walks to the altar with a possibly rehabilitated Irene Adler. Robin Hood and the Maid Marion, and Don Quixote and the Fair Dulcinea ride off into the sunset as husband and wife. Even Benji and Lassie find marital bliss. And that's only the beginning.

WISHFUL WEDDINGS: From Casablanca to Titanic—Star-Crossed Lovers United at Last! is a triumph of love and laughter. It's the perfect book for every couple who has taken the marriage vow, or intends to take it. For every woman who is a bride, or hopes to be one. For everyone who loves, or hopes to love. We all long for a happy ending. Here are fifty-two of them, one for every week of the year. And every one of them will keep you smiling for long after that!


Praise for Wishful Weddings
"You owe a 'time out' to yourself. Read WISHFUL WEDDINGS by Hy Brett... Even reading one wedding report a day will lift your spirits. Enjoy!"
-Radine Trees Nehring (author of the prize-winning "To Die for…" mysteries)
[ View Radine's Blog on Wishful Weddings ]



[ Read Excerpt 1 | Read Excerpt 2 ]

[ Buy: Amazon | B&N | Kobo | iTunes | SmashWords ]
[ Buy Paperback: Amazon | B&N ]